Saturday, July 17, 2010
Posted by

Jessica
at 7:55 PM
No comments:

Posted by

Jessica
at 7:52 PM
1 comment:

Saturday, July 10, 2010
I just decided that I have to start putting pics on here. ALL of the cute blogs I read share pics. I was supposed to start putting pics up of the diaper cakes and things I make and never did. I then turned it into a family blog and kept the no pic trend up. I am a retard! HA! I will have Sam get me started. I am a blogging newbie still I guess! I promise I will post some pics before Monday (I almost said tonight,but cant get to ahead of myself!)
Posted by

Jessica
at 11:29 AM
No comments:

Tuesday, July 6, 2010
Please pray for baby Bennett! He was born very early (almost 27 weeks!) I cant imagine what having a micro preemie would be like. I know Adrienne would greatly appreciate all the prayers.
It hits home because Adrienne has the same clotting disorder that I do (and Bennett is our last name)Ha! She has lost several pregnancies and then was blessed with this miracle boy. Please lift all of them up. She and her hubby have three adopted children also.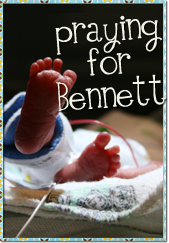 Posted by

Jessica
at 4:08 PM
No comments: